Home
Update: December 2018
Following the withdrawal of our planning application in August 2018, to address a number of technical issues, we have now resubmitted our revised proposals. We will continue to update this website with more information once the application is validated and as it progresses.
The resubmitted application features three very minor revisions to our original application:


The proposed main car park and internal roads have been repositioned slightly, to protect an existing hedgerow.


Two small areas of hardstanding have been created to allow easier access for deliveries.


An on-site pumping station has been added to the drainage plans, following consultation and agreement with Thames Water.


What is Chilton Services?
Welcome to the community website for the proposed Chilton Services. SP Broadway (acting for the landowners) are consulting on the development of a new small service area at the A34 Chilton interchange, accessible to drivers heading in both directions on the A34 and from the road network. Please have a read of the website, and if you think our proposals are a good idea and would benefit you, your friends, local residents, Harwell Campus, and A34 users –
please register your support!
Where is the proposed new Chilton Services?
The new Chilton Services is located on 1.3 hectares of currently undeveloped land, which was abandoned and cut off by the recent highway upgrades at the Chilton A34 junction. The site was formerly used as a construction site – making it ideal for a new service area. The land is sandwiched between the A34 and the newly built northbound slip road off the A4185 roundabout – roughly 300 metres from Harwell Campus.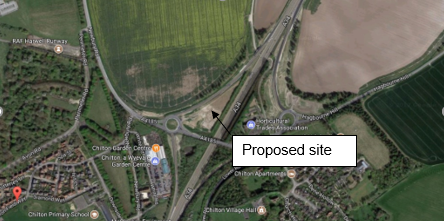 The site for the proposed new Chilton Services
The 1.3-hectare site is triangular in shape and is made up of  unused, former agricultural land. Having been cut off from the surrounding countryside by the Chilton Interchange Highway Improvement Scheme, and separated from the surrounding countryside by the new slip road, the small piece of land is no longer suitable for agriculture and was recently used as a construction site.